Lyminge is rich with archaeology and many excavations over the years have shown a variety of archaeological finds. Archaeological evidence has covered the Stone Age, Bronze Age, Iron Age, Roman, Jutes and Anglo-Saxon periods of history. An early interest in archaeology in Lyminge was that of Canon Jenkins who was Rector of the Parish Church in Lyminge in the mid-nineteenth century. When the Elham Valley Railway was started in the nineteenth century, finds were discovered in Lyminge. In the 1950s, a Jutish Cemetery was discovered when a mushroom shed was being constructed in a field off Canterbury Road. This led to three digs being carried out and the discovery of some very interesting grave artefacts.
Between 2008 and 2015 Dr Gabor Thomas, Dr Alexandra Knox and their team from the University of Reading undertook archaeological digs in Lyminge. In 2008 a dig was undertaken at the Old Rectory. In 2009 a dig was completed in the Churchyard, and in 2010 a third dig was carried out in Rectory Lane. In 2012-2014 four further excavations took place on Tayne Field, off Church Road. 2015 saw an excavation that took place to find answers to questions arising from the four previous digs with unexpected findings. See below.
The Pathways to the Past project in 2019 was a community based endeavour to re-excavate the 7th Century Anglo Saxon Church originally excavated by The Reverend Canon Jenkins, Rector of Lyminge Parish Church, in the 1860s. See more on the drop down menu under this Archaeology banner.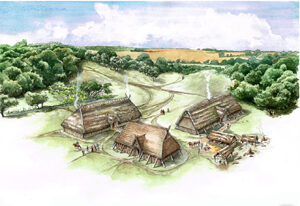 The illustration is based on the Anglo-Saxon royal meeting halls that were excavated on Tayne Field from 2012-2014, directed by Dr Gabor Thomas and his team of the University of Reading, as part of the Lyminge Archaeological Project. This was an ambitious programme of village-core archaeology funded by the Arts and Humanities Research Council.
The project was based at the University of Reading and also involved professional archaeologists, student trainees, volunteers from local archaeological societies and local residents from Lyminge and neighbouring communities. The project was recognised by being highly commended in the 2012 British Archaeology Awards' category of "Best Project".
1953 – 1955 – The Jutish Cemetery Dig