Created in 2015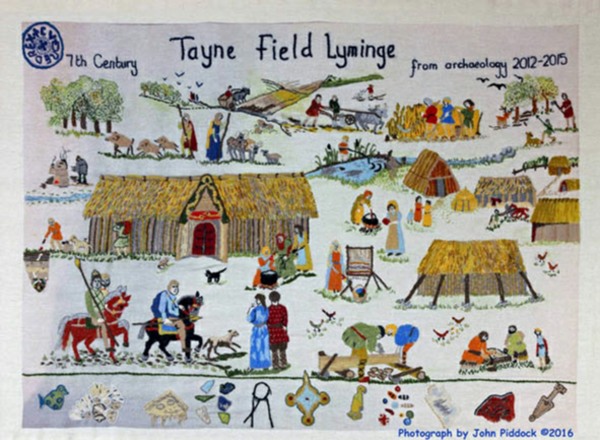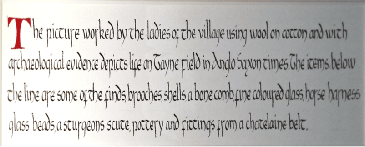 The picture worked by the ladies of the village using wool on cotton with archaeological evidence, depicts life on Tayne Field in Anglo Saxon Times. The items below the line are some of the finds, brooches, shells, a bone comb and coloured glass, horse harness, glass beads, a sturgeons scute, pottery and fittings from a chatelaine belt.
The Story of the Lyminge Embroidery Panel: Anglo-Saxons on Tayne Field in the 7th Century
In 2015, at the end of the fourth and final archaeological dig by Reading University on Tayne Field, some of the ladies who had washed and sorted the finds wanted to leave a lasting memory of the dig for the village. They decided to make a tapestry depicting how life might have been in Lyminge in the 7th Century. The design was prepared by Nikki Barratt, a local artist. It is based on evidence from the dig and the finds. The ladies who gave their time and skills to this project were Maureen Cox, Niki Hunnisett, Eileen Jennings, Margaret Keeble, Janet Reynolds , Rosemary Selman, Pam Sidders, Andree Sladden, Pauleen Stewart, Gill Wren and Katharine Barber, who led the project. Angela Camplin was the Calligrapher. Her Anglo-Saxon calligraphy was incorporated within the framing of the panel. The Lyminge Association kindly sponsored the materials and the framing of the tapestry together with the Lyminge Historical Society. The Tayne Centre Restoration Committee agreed to hang the tapestry in the main hall. It was unveiled to the village on 16th April 2016.
Prior to the unveiling, the panel was taken to Lyminge Primary School and presented at an assembly, following which it was taken around to all the classes for a closer look. One very young lad asking if we found any dinosaurs!
The first stitch occurred on 15 September 2015 and the following photographs depict progress over the next several months, with those involved in the embroidery itself, until the final stitch on February 2016.
It was sent to the framers for stretching and framing and is now hanging in the Tayne Centre, formerly the Methodist Hall in Church Road, Lyminge.  A lasting legacy for an amazing archaeological community project that will endure for future generations.