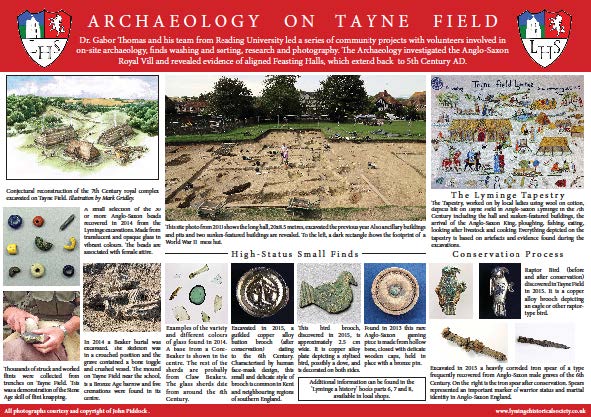 Introduction
This poster shows some of the hidden history from Tayne Field in Lyminge where people have lived for centuries. When the Archaeology team from Reading University returned to Lyminge in 2015 they were interested in a large midden known locally as 'the Blob'. Current thinking is that a pre-historic sinkhole or 'doline' under the infill may have attracted Bronze Age people to the site believing it was a doorway to another world. The name Tayne is thought to come from 'tenter', a drying frame for fabric and may be associated with the 16th Century wool trade.
The footpath which crosses the field is part of the Elham Valley Way and is the route of an ancient trackway.
By purchasing the field in 1971 the Parish council have prevented it from being built on and have conserved the history which the Archaeologists discovered.
Conclusion
The significance of the Anglo Saxon finds from Tayne Field have been discussed in Archaeology magazines, in TV programmes and in ' Lyminge A History ' books. Dr. Gabor Thomas has recently published his findings based on a Conference convened at the University of Kent. Work based on the findings of the dig continues.